Welcome to the Art Studio!
Our current big project right now is Endangered Species Superheroes.  Join as Bosco (sloth), Benjamin (marine iguana), Zoey (tapir), and their human friend, Lindsey, rescue friends who are in trouble, seek solutions to problems and learn about the world around them in ways never possible before they became superheroes. Often in the background, their friend, Fluffy (Sumatran rhino) with very special powers of her own, helps in subtle, and sometimes not so subtle, ways. We hope you will come to know and love our animal friends as we do.
Note from Dakota:
I am currently working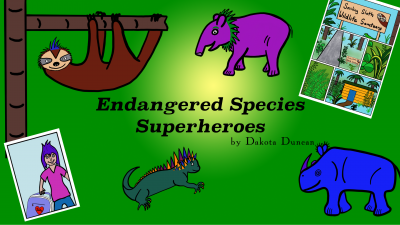 on a graphic novel, The Endangered Species Superheroes, geared for young -and young-at-heart – wildlife and nature enthusiasts.  This is not your typical, dark superhero comic. Instead, it is filled with bright colors and cute animals in a tropical setting. I wanted to create something that would appeal especially to girls, who are often turned off by the dark, gritty, crime-laden pages of most comics and graphic novels.
Would you like to to be in on Endangered Species Superheroes news as soon as it is available? How about receiving a Free Activity Book with word searches, fill-in-the-blank stories, and more?  You could also receive behind-the-scenes artwork, workflow insights, tips about being environmentally conscious, and more!  If this sounds good, just go to my website and sign up for my mailing list.  http://www.dakotaduncan.com/
Not so long ago, Rising Owl Studios was the home of Rescue Rhino – a comic series about a Sumatran Rhino who has the ability to project herself as the cat she truly believes she is deep down inside.  You will still find some of this early work on these pages.  This character has found her way into the Endangered Species Superheroes world, and though she does not have the same abilities as the rest of the team, her unique powers are indispensable!
Read More about this Blog
Welcome to the Rising Owl Art Studio! This is the home of Rescue Rhino, a (now retired) comic series about a Sumatran Rhino who has the ability to project himself as the cat he truly believes he is deep down inside.  The comic can still be found here, however, the character took on a life of his own – and he is now one of the stars of my new graphic novel – Endangered Species Superheroes. This graphic novel is not your typical, dark superhero story. Instead, it is bright, fun, filled with cute animal characters and a smart, powerful teenage girl who is their best friend.
For more about this novel and when it will be available, please check out:  dakotaduncan.com
Enjoy!
– Dakota