Welcome to the Art Studio!
Our current big project right now is Endangered Species Superheroes.  Join as Bosco (sloth), Benjamin (marine iguana), Zoey (tapir), and their human friend, Lindsey, rescue friends who are in trouble, seek solutions to problems and learn about the world around them in ways never possible before they became superheroes. Often in the background, their friend, Fluffy (Sumatran rhino) with very special powers of her own, helps in subtle, and sometimes not so subtle, ways. We hope you will come to know and love our animal friends as we do.
Note from Dakota:
I am currently working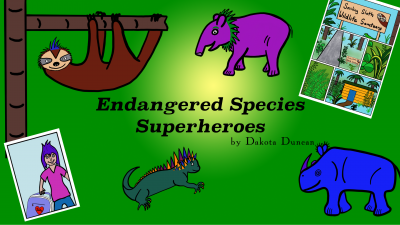 on an Endangered Species Superheroes graphic novel for young, and young-at-heart, animal and nature enthusiasts.  I will be posting a new video to YouTube every Friday featuring the ESS characters, so be sure to check that out.  Don't forget to subscribe, and if you like what you see, please share with your friends.
Would you like to to be in on Endangered Species Superheroes news as soon as it is available? How about receiving a free collectible pdf ESS poster?  Behind the scenes artwork, workflow, research and more?  If this sounds good, just go to my website and sign up for my mailing list. http://www.dakotaduncan.com/
Not so long ago, Rising Owl Studios was the home of Rescue Rhino – a comic series about a Sumatran Rhino who has the ability to project herself as the cat she truly believes she is deep down inside.  You will still find some of this early work on these pages.  This character has found her way into the Endangered Species Superheroes world, and though she does not have the same abilities as the rest of the team, her unique powers are indispensable!
Read More about this Blog
Welcome to the Rising Owl Art Studio! This is the home of Rescue Rhino, a comic series about a Sumatran Rhino who has the ability to project himself as the cat he truly believes he is deep down inside. The other rescues in his new family already know his secret, but what will happen when Mom finds out? My goal is not only to entertain, but also to touch on topics of endangered species, the importance of pet rescue, and the miraculous nature of animals.
In addition to Rescue Rhino, I create the artwork for our workbooks, courses and companion apps (to be released later this year), am working on illustrations for a book featuring trolls, and seem to take way more photographs than I ever even have time to sort through! I especially like capturing animals, nature and landscapes from unexpected perspectives, both in my drawings and my photography. I hope some of my creations will make you smile, and maybe even look at common subjects in a fresh way.
Enjoy!
– Dakota